In the second episode of Floralpikmin99, she continues making her house. She talks about Arceusrules98, and how she thinks he made a house around spawn. She tells how mad she is about there being coal right in front of her nose in the cave, but she didn't notice because it was dark. She also considers she might download waypoints and such.
She also decides to explore the cave a little more and pick up some iron, while also explaining how Creepers are attracked to her.
She also makes her first chest to store her inventory of items in. She mainly works on her floor of her house as well, when not exploring the cave. She mainly explores one of the deeper sections of the cave too, whle suprisingly not running into any monsters face to face to her suprise, instead she finds a stray Skeleton in her house as well as a Chicken, which is kind of a start to the whole, Egg War against Arceusrules. She also ventures through the Fields of Openness, trying to get back to the main spawnpoint, however she also killed a few cows for extra food.
Later, she explored a nearby forest and tamed her first pet, a wolf. As she contiues through the forest she collects a few trees while talking about the joys of Summer free-time. She then explores a bit of the Floral Jungle while planning to head back to her home.
Much Like Arceus, she killes a few sheep to get enough wool to make a bed to start off.
She also manages to collect a bunch of eggs on her way home, preparing even more for the upcoming Egg War. When also finishing up her floor, she rambles on about what's been happening in Minecraft, as well as making a few doors to secure her home. 
Lastly, she forms her home a little bit more by mining it all out to her liking and putting up Wooden Planks and Wooden Plank Slabs to make it look nicer.
She finally ends off the video by starting the lower floor by placing her first furnace, which leads off into Episode three.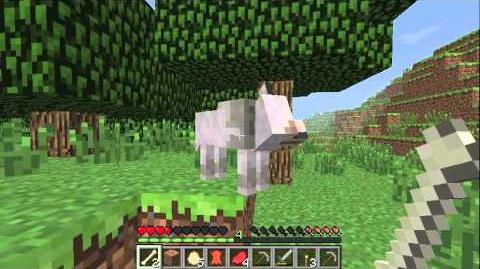 Season 1
Floralpikmin99
Episode 1, Episode 2, Episode 3, Episode 4, Episode 5, Episode 6, Episode 7, Episode 8, Episode 9, Episode 10, Episode 11, Episode 12, Episode 13, Episode 14, Episode 15, Episode 16, Episode 17, Episode 18, Episode 19, Episode 20, Episode 21, Episode 22, Episode 23, Episode 24, Episode 25
Episode 1, Episode 2, Episode 3, Episode 4, Episode 5, Episode 6, Episode 7, Episode 8, Episode 9, Episode 10, Episode 11, Episode 12, Episode 13, Episode 14, Episode 15, Episode 16, Episode 17, Episode 18, Episode 19, Episode 20, Episode 21, Episode 22, Episode 23, Episode 24, Episode 25, Episode 26